I have been commissioned to create a new sculpture for Tremenheere Sculpture Gardens, near Penzance, Cornwall, UK. Tremenheere is a stunning garden full of unusual sculptural plants and sculptures by many well known artists, including James Turrell, Kishio Suga, and Richard Long.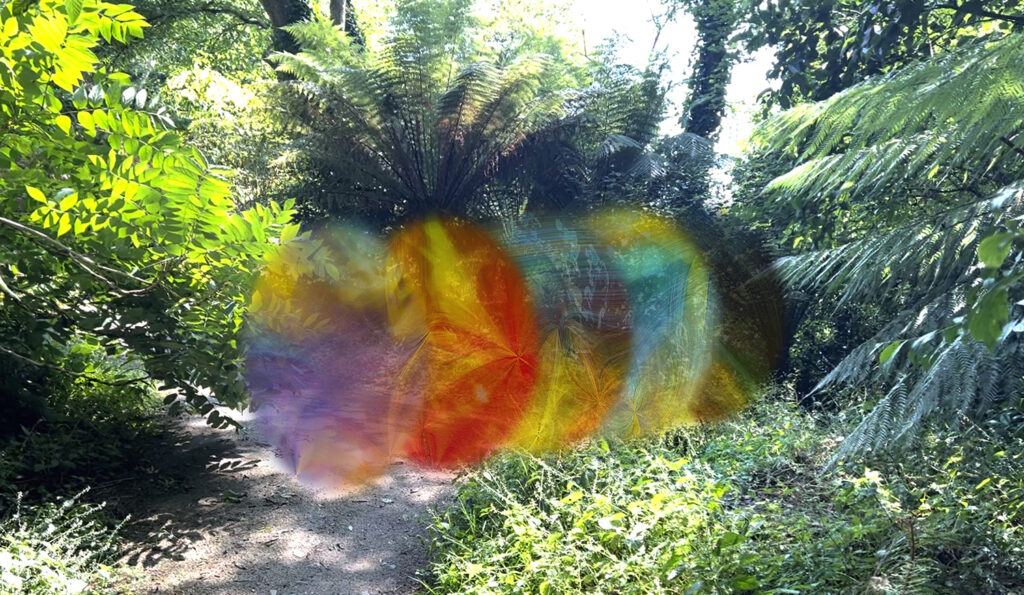 Title: thin-scape 2022-23
Media: digitally manipulated photographs, geolocated augmented reality app
5 sets of slowly rotating circles float in the landscape.
Each image has been 'discovered' in these locations.
Colours and textures are 'found' in original photographs taken at Tremenheere in July 2022.
— thin veils that hide and reveal
— as you move through them, scale overwhelms – then they disappear
— the 'inscape' of the land
— meaning embedded in space and location
— an interdependency — encouraging careful observation
(and it's quite fun to play with!)
---
an alternative behaviour of the work 'thin-scape' – created for and in Tremenheere Sculpture Gardens
---
see more photos here: https://www.jonathankearney.com/portfolio/ar-sculpture-at-tremenheere/
---
Many people were involved in realising this project, huge thanks to the team at Falmouth University, specifically Tanya Krzywinska and Alexander Mitchell, to Dave Bessell for audio input and Neil Armstrong at Tremenheere Sculpture Gardens, with the hope that this installation can contribute to his amazing vision of art, planting and landscape.
---
Read more about Tremenheere Sculpture Gardens here: www.tremenheere.co.uk
---
'The Mystery of Art' app:
GooglePlay version for Android phones can be downloaded here:
https://play.google.com/store/apps/details?id=com.FalmouthUniversity.gARden&pli=1
The iOS (iPhone/iPad) version can be downloaded from here:
https://apps.apple.com/gb/app/the-mystery-of-art/id1663292170
or search for 'The Mystery of Art'